This page will include information for families and general activities that all children and families can access.
Coronavirus website - https://www.gov.im/coronavirus
Many of the activities provided require the use of online spaces. We would like to remind parents to talk to your children about internet safety and the potential pitfalls of working online. The Safer Schools App is something the school has pushed out to parents in the past and is a fantastic resource to use at this time. Please find our school on the App and use the Entry Code: 7440. Also use https://www.bbc.co.uk/teach/safer-internet-day-resources/z6bbhbk for further support.
We have included these because they are currently providing free access, and many children in school are familiar with the sites. We are aware that there will be some adverts linked to these pages, so please ensure age-appropriate supervision:
Reading
Oxford Owl (Reading - free e-books (linked to school reading schemes)) - https://home.oxfordowl.co.uk/books/free-ebooks/

Story Online (Reading - videos of stories being read) - https://www.storylineonline.net

Book Trust (Reading - e-books, games and quizzes) - https://www.booktrust.org.uk/books-and-reading/have-some-fun/#!?q=&sortOption=AtoZ&pageNo=1
Story Nory (Reading - free audio stories) - https://www.storynory.com

BBC Bitesize (Reading - free audio stories) - https://www.bbc.co.uk/bitesize/primary
worldbookonline (Free online books (Requires account creation)) - https://www.worldbookonline.com/

Historical significance
Whilst this is a difficult and sad time, we know in years to come it will be a time of enormous historical significance. The documents below are for you to create a 'time capsule' to remember the challenges in years to come:
Phonics
Phonic Play - https://www.phonicsplay.co.uk/

Phonics Hero (Phonics games and activities) - https://www.phonicshero.com/parents-sign-up-new/ Free 7 day parent trial available
Phonics Play (https://www.phonicsplay.co.uk - For free access: Username – march20 / Password - home)

Phonics Bloom (Phonics) - https://www.phonicsbloom.com

Literacy
Language Link - https://speechandlanguage.info/junior / https://speechandlanguage.info/infant (free trials)

Speech and Language Link (Resources to support speech and language development) - https://speechandlanguage.info/parents

Pobble 365 (Literacy (writing, reading, comprehension etc) ) - http://www.pobble365.com

Talk for Writing - an excellent way to get children writing! https://mailchi.mp/talk4writing/home-school-booklets & https://mailchi.mp/talk4writing/batch2
Maths
White Rose Maths (Maths activities / worksheets. Includes help videos for parents and videos for children to follow) - https://whiterosemaths.com/homelearning/
Classroom Secrets - https://classroomsecrets.co.uk/
Memory Games and Maths Activities - https://www.nessy.com/us/virtualschool/
URBrainy (Maths home learning packs) - https://urbrainy.com/maths/free-home-study-packs You will need to sign up for an account to access the free resources
NRich (Maths games and puzzles) - https://nrich.maths.org/primary
Mangahigh (Mangahigh is a game-based site for math online learning resources. It covers a range of mathematical areas) - https://www.mangahigh.com/en-gb/games

ICT
Thinkuknow (Video content and information to support children staying safe online) - https://www.thinkuknow.co.uk/professionals/resources/
Scratch (ICT - Computer Coding) - https://scratch.mit.edu Your child may have their own account already. If not, they will need to create one.
Other
Topmarks Games (for all subjects, particularly good for Maths) https://www.topmarks.co.uk
BrainPop (BrainPop offers learning on topics across the curriculum for KS2. Each topic includes videos, quizzes, related reading, and even coding activities. Teachers have access to planning and tracking resources too. They also offer BrainPop Jr., specially designed for KS1) - https://www.brainpop.com
ICT Games (Maths, English interactive games) - http://www.ictgames.com

Chatterpack (Geography, history, art, music) - https://chatterpack.net/blogs/blog/list-of-online-resources-for-anyone-who-is-isolated-at-home?fbclid=IwAR2faGO9F73IXaEWA5_dTsM37uNDYZ0wQLZiqW7X5WLG-AKUHZJ-ETu9z1Y

National Geographic Kids (Geography) - https://www.natgeokids.com/uk/

Mystery Science (Science based video and resource bank and suggestions for hands on activities) - https://mysteryscience.com

Thinking Skills - https://www.thephilosophyman.com/brainsqueezers
Daily Kids Workout with Joe Wicks 'The Body Coach' (PE Activities) - https://www.youtube.com/thebodycoachtv

Science challenges - https://www.jamesdysonfoundation.com/resources/cha...

Celebrity online classes

Celeb_Online_classes_and_activities.docx
Ideas on how to organise your learning week: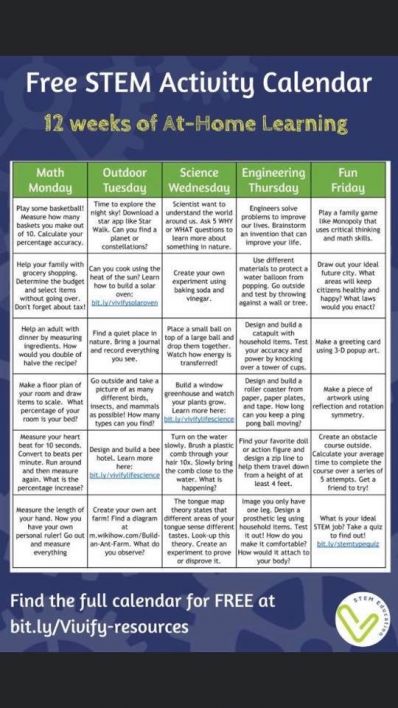 30 Day Lego Challenge!